If you've been avidly following the progress of MOSAICS, you may have realised that it's now been already a year since all ESRs started their projects. What a perfect anniversary to launch a short news post series: Meet the ESRs. Starting today and over the next four months you can look forward to reading an exclusive interview with the 4 MOSAICS ESRs. It's time to learn a bit more about who's behind the MOSAICS research. So let's dive right in, with ESR 1 Ignacio Calderon de Palma, who is looking into Objective measures in CI systems.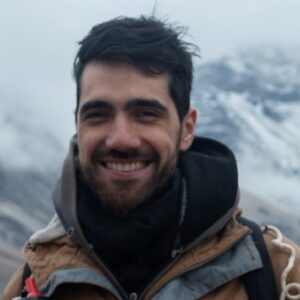 How did you get into the field of Cochlear Implants? I got into the field working for a Cochlear Implant company. I entered this world without much prior knowledge about it. At that moment, I had a very strong interest in psychoacoustics, but knew little about hearing loss and how cochlear implants worked. When the opportunity showed up, I felt it was worth giving it a try. I could've never expected finding myself in such a fascinating universe. I was immediately submerged in a rich environment, discussing with people from very different backgrounds. This further enhanced my motivation to keep learning about them.
Why did you apply for an ESR position with MOSAICS? I think the first thing that caught my eye was the topic of 'outcome variability', meaning that some people who receive cochlear implants do not perform as expected. While working in the CI industry I've experienced this in first person and I thought I could do something about it. Also, because of its novel multidisciplinary approach. We're 4 ESRs all coming from different backgrounds and supported by a consortium with experts in various fields, each bringing their own game to the table. Last, but certainly not the least, I wanted to challenge myself.
What are your aspirations for your research? I hope I can find meaningful measurements that can help us understand the reasons for poor performance in Cochlear Implant users. I want my research to provide answers and have an impact, directly or indirectly, on CI recipients lives.       
How is the EID experience compared to your previous ones in academia and/or industry? It's a completely new experience on the more academic side, but it's nice to have a foot still on industry. I think the EID experience is a great bridge between both worlds. Receiving support from both academic and industrial partners broadens our perspective on the issues we're trying to tackle within our own research, while enabling us to get a complete view over future prospects. So far, the experience is a good one.
How has the experience been during COVID-19 pandemic? It has been challenging. Switching to online meetings instead of in person has been a tough process. Meeting new people and making bonds in a new country has also been hard due to restrictions. However, I have support from colleagues and supervision team, who are always for anything I need. Besides, I've learnt to value smaller things, like taking a walk in the park, which have become a very important part of the day for me.
What do you think you bring to the MOSAICS team besides your expertise? I'm adaptable and very self-driven. I'd say that I bring hard-work into the table. I consider myself a good listener and like to engage in discussions. Thus, support for my colleagues is an important feature I'd also consider besides my expertise
What is the most important quality you consider a researcher should have? Resilience. Research is not about getting it right on the first try, but a learning process. In order to do so, we need to be able to get up on our feet after encountering adverse events. I also think that with the current context of a global pandemic, resilience has become an even more important feature for everyone, not only researchers. 
What is your favorite memory during Mosaics so far? Probably, the Fresher's Week we shared in person at the Cochlear Technology Center in Mechelen. That was probably the last meeting I recall we had in person as a group before we switched completely into online meetings. I really enjoyed that moment. We had very fruitful discussions and I think we got to know each other better. As a plus, it was my birthday!
What would you bring on a desert island? My guitar and books.
What's your favorite book/music? My favorite book is probably The Sound Book by Trevor Cox. Since I read it, I keep clapping my hands everywhere I go, in order to test the acoustics of every space. In terms of music, I enjoy jazz music, in particular I'm a big enthusiast of John Scofield's work.
To find out more about the other MOSAICS ESRs, watch this space and follow our Twitter account @MOSAICS_2020.