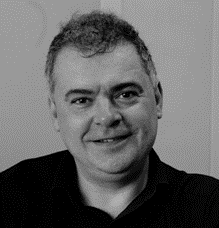 Position
Head of Algorithms and Application in the Advanced Innovation department at Cochlear Ltd.
Role in MOSAICS
Coordination, supervision of ESR 1, and leader of WP5 Management
Background
electrical, biomedical, and computer engineering
signal processing
audiology
medical devices and inner ear
Selected Publications
De Ceulaer G, Pascoal D, Vanpoucke F, Govaerts PJ. The use of cochlear's SCAN and wireless microphones to improve speech understanding in noise with the Nucleus6® CP900 processor. Int J Audiol. 2017 Nov;56(11):837-843.
Busch T, Vanpoucke F, van Wieringen A. Auditory Environment Across the Life Span of Cochlear Implant Users: Insights From Data Logging. J Speech Lang Hear Res. 2017 May 24;60(5):1362-1377.
Gérard JM, Demanez L, Salmon C, Vanpoucke F, Walraevens J, Plasmans A, De Siati D, Lefèbvre P. "Feasibility of an implanted microphone for cochlear implant listening."Eur Arch Otorhinolaryngol. 2016 Nov 30.
de Graaff F, Huysmans E, Qazi OU, Vanpoucke FJ, Merkus P, Goverts ST, Smits C. "The Development of Remote Speech Recognition Tests for Adult Cochlear Implant Users: The Effect of Presentation Mode of the Noise and a Reliable Method to Deliver Sound in Home Environments."Audiol Neurootol. 2016;21 Suppl 1:48-54.
Vanpoucke FJ, Boermans PP, Frijns JH, "Assessing the placement of a cochlear electrode array by multidimensional scaling", IEEE Trans Biomed Eng. 2012 Feb;59(2):307-10.
Berenstein CK, Vanpoucke FJ, Mulder JJ, Mens LH, "Electrical field imaging as a means to predict the loudness of monopolar and tripolar stimuli in cochlear implant patients", Hear. Res. 2010 1;270(1-2):28-38.
Nogueira W, Vanpoucke F, Dykmans P, De Raeve L, Van Hamme H, Roelens J., "Speech recognition technology in CI rehabilitation. Cochlear Implants Int. 2010 Jun;11 Suppl 1:449-53.