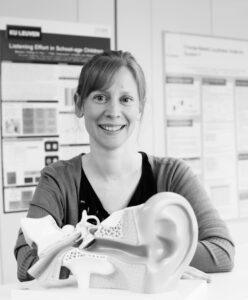 Position
Senior Research Audiologist
Cochlear Ltd.
Role in MOSAICS
Leading professional of MOSAICS beneficiary, supervisor of ESRs 2 and 3, leader of WP4 Outreach
Background
Research audiology
Cochlear implant fitting and outcomes
Person-centered care
Birgit is based at the Cochlear office in Mechelen, Belgium, were she is part of the Algorithms and Applications team. After graduating as a Speech and Language Pathologist at the KULeuven in 2004, she obtained a Master's degree in Audiology at Ghent University in 2006. Combining clinical audiological work such as CI counselling, testing and fitting and driving CI-research in the area of speech perception in poor and star performers, led to obtaining a PhD at Ghent University in 2013. Her passion to strive for the implementation of person-centered care and improve people's lives with CIs, makes her an active contributor to the clinical CI-related field, which has resulted in several A1-papers and oral contributions to international conferences. Since 2007, she's also a staff member of the Ghent University College where she teaches CI-related courses in the Audiology bachelor's program.
Selected Publications
Philips B, Corthals P, De Raeve L, D'Haenens W, Maes L, Bockstael A, Keppler H, Swinnen F, De Vel E, Vinck BM, Dhooge I. Impact of newborn hearing screening: comparing outcomes in pediatric cochlear implant users. Laryngoscope. 2009;119(5):974-979.
Philips B, Vinck B, De Vel E, Maes L, D'haenens W, Keppler H, Dhooge I. Characteristics and determinants of music appreciation in adult CI users. Eur. Arch. Otolaryngol. 2012, 269: 813-821.
Boons T, Brokx JP, Frijns JH, Peeraer L, Philips B, Vermeulen A, van Wieringen A, Wouters J. 'Effect of pediatric bilateral cochlear implantation on language development. Arch. Pediatr. Adolesc. Med., 2012 Jan;166(1):28-34.
Akin, R. Götze, D. Basta, B. Böhnke, J. Müller-Deile, Y. Ormezzano, B. Frachet , N. Jaspers, N. Deggouj, B. Philips, I. Dhooge, L. Arnold. 'Results of the multicentre clinical SmartNRI study.' Otology and Neurotology, 2012, 33(5): 736-739.
De Ceulaer G, Swinnen F, Pascoal D, Philips B, Killian M, James C, Govaerts PJ, Dhooge I. Conversion of adult Nucleus® 5 cochlear implant users to the Nucleus® 6 system. Cochlear Implants Int. 2015 Jul;16(4):222-32.
Philips B., Smits c., Govaerts P.J., Doorn I., Vanpoucke F., 2018. "Empowering senior cochlear implant users at home via a tablet computer application", American Journal of Audiology, 27, 417-430.
de Graaff F, Huysmans E, Philips B, Merkus P, Goverts ST, Kramer SE, Smits C. Our experience with home self-assessment of speech recognition in the care pathway of 10 newly implanted adult cochlear implant users. Clin Otolaryngol. 2019 May;44(3):446-451.