Despite a move from face-to-face to virtual platforms due to the coronavirus pandemic, the first part of the MOSAICS Fresher's Week was a great success. Several experts in the field of CI shared their knowledge with the four MOSAICS ESRs and their supervisors through various online sessions.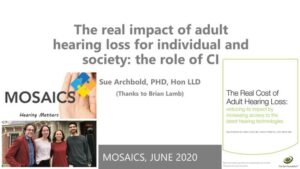 Sue Archbold kicked-off the Fresher's Week on June 8th 2020, sharing her expert advice on the real impact of adult hearing loss for individuals and society, while on June 12th Bas van Dijk (Cochlear) provided an insightful presentation on CI fitting. June 15th started with a review on prediction models of postoperative performance with CI delivered by expert Inigo Bermejo (Maastricht University Medical Center+),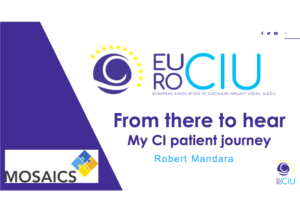 followed by the patient journey of Robert Mandara (vice-president of Euro-CIU) who spoke about his experience as a CI user.  Having a patient's journey told first-hand was a particularly special experience for the ESRs, who are starting their projects in MOSAICS with a diverse background: "As someone who doesn't have any experience as an audiologist nor background in working with cochlear implants, having someone like Robert Mandara talk about his life and journey with his CIs was very valuable," says Loes Beckers (ESR2).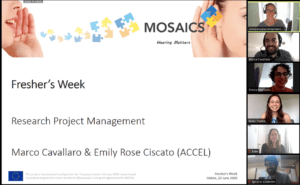 This first part of Fresher's Week ended on June 22nd, with Leo De Raeve (Euro-CIU) who took them through what is currently known about adult CI candidates and their outcomes, followed by insights from Emily Rose Ciscato and Marco Cavallaro (accelopment) who introduced the ESRs to research project management. The invaluable knowledge and insights gained from these webinars have provided the ESRs with a strong foundation on which to build their projects within MOSAICS. "Hearing loss is a multifaceted condition that impacts differently those suffering from it, their relatives, their caregivers, physicians, audiologists, researchers and engineers. Fresher's Week was instrumental in shaping a holistic approach to let each of us grasp the bigger picture, regardless of our own specialisation." says Enrico Migliorini (ESR4).
The ESRs would like to thank all experts who contributed to these sessions and are looking forward to the second part of the Fresher's Week, which will take place at the Cochlear Technology Center in Belgium at the beginning of July 2020.
More information from the Fresher's Week sessions can be found on the MOSAICS twitter account @MOSAICS_2020.