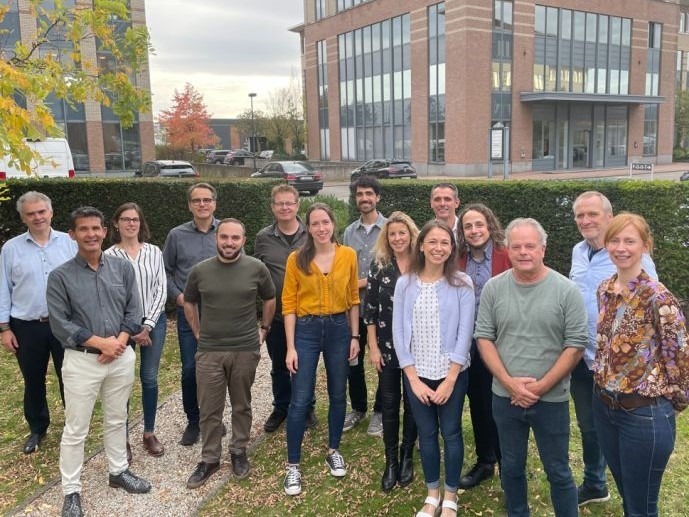 On October 27-28th, 2022 the MOSAICS Research Days took place at Cochlear Ltd., in Mechelen, where the four MOSAICS ESRs met with their main supervisors from Cochlear ltd. and Radboudumc for a deep-dive into their research progress. During this 4th edition of the Research Days, each of the ESRs presented their research results and progress made over the previous six months, discussing together with their supervisors what steps to take next. All of the ESRs completed substantial work over the past months, designing experiments, collecting data or even already writing manuscripts. The supervisors provided advice ranging from statistical analysis tips to advice on how to present and everything in between. While research progress was at the heart of the event, several other guests were also present as they had been invited to provide training on timely topics for the ESRs.
Marco Cavallaro and Emily Rose Ciscato from accelopment Schweiz AG joined to not only get in-person updates on the project and brainstorm with the team over outreach and exploitation opportunities, but also to provide a training session on gender aspects in research. They gave an interactive workshop on how gender is represented within the research community, both inside and outside of academia, how to become aware of any biases that one might have, and how to be more inclusive in communication. Enrico Migliorini's (ESR 4) take-way from this workshop was that "Scientific research requires general humility, which should manifest also in the form of checking ones own implicit bias. Unfortunately, this is a step often forgotten."
Furthermore, Joris Walraevens joined as a part of the project's 16th training module on "Starting a business". Joris previously worked at Cochlear Ltd. (fulfilling diverse roles in within the company such as roles in research, marketing and sales), also completed a PhD trajectory, and recently joined a start-up company. He spoke about his career choices and provided the ESRs with some tips and tricks on determining their career path. Previously, during an online meeting as part of the same training module, Willy Colier from Artinis spoke about what it was like to own his business and how he started it. Both sessions and conversations about career paths were very inspiring and educational.
All in all, the research days and training module were an educational, insightful and joyous experience. Learning as a team and working together to make decisions, further improve research and motivating each other by sharing accomplishments, fuels the energy of the ESRs and increases the quality of outcomes of MOSAICS.