On April 25th, Nikki Tromp (ESR 3) and Birgit Philips (MOSAICS Supervisor) were part of the research group from Cochlear Benelux to host an experience day in Utrecht, the Netherlands. A handful of experienced cochlear implant (CI) recipients were invited to Cochlear's information center to provide valuable input into several ongoing projects, including MOSAICS.
The intention of the day was to gain insights and inspiration from CI users for an upcoming MOSAICS study, coined 'AuDiET': Auditory Diagnostics and Error-based Treatment. This study is in collaboration with Enrico Migliorini (ESR 4). The premise of AuDiET is that hearing tests conducted in the clinic give very broad insights into individuals' speech perception abilities. This means that rehabilitation for the speech perception errors CI users make typically takes a 'one-size-fits-all' approach and is not individualized. AuDiET will therefore investigate how CI users' speech perception errors can be improved by changing their CI processor fittings (referred to in the clinic as a "MAP") and by providing them with individualized rehabilitation, based on the specific errors they are making.
Part of the day included two focus group sessions with several experienced CI users. During these sessions, Nikki and Birgit had the opportunity to be inspired by users' own rehabilitation journeys after implantation. Birgit kicked off the focus group with an engaging presentation of the MOSAICS project to set the scene. Users were then given the opportunity to share how they would like to see rehabilitation reshaped in the future, such as being able to better monitor their own progress.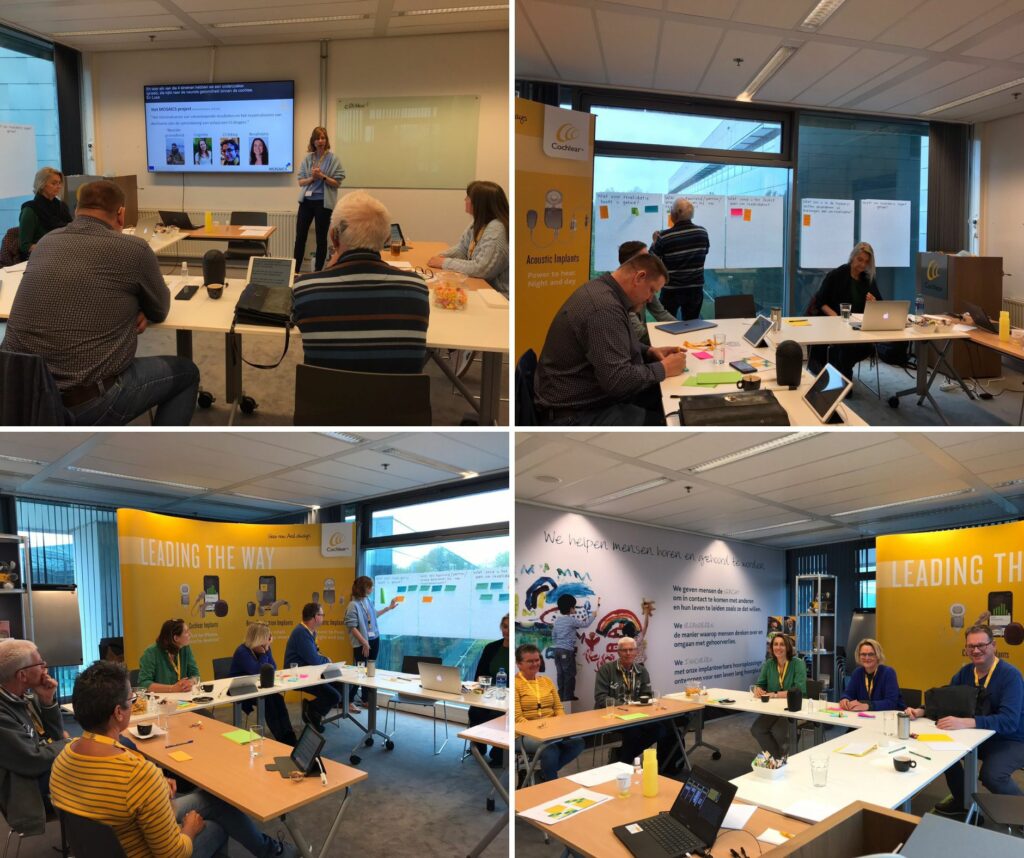 As part of her first focus group experience, Nikki had this to say, "I'm so grateful that this group of CI users were willing to be vulnerable when sharing their rehabilitation journeys, while also being bold about what they want to see in the future of rehabilitation. I was reminded how important the communication partner is in the CI journey, especially during rehabilitation, to act as both a motivator and to gain more insights into their partners' new challenges and learning curves with their implant."
The AuDiET study is set to start at the end of Spring 2022, with exciting opportunities to present the results at various conferences and meetings in 2023. Keep an eye out on our website and Twitter page @MOSAICS_2020 for updates on AuDiET and other MOSAICS projects.